It's amazing how you can rejuvenate an old outfit when you throw a brand-spankin-new accessory into the mix. My favorite piece to spice things up? NECKLACES.
I just love themmmmmm. We've gone through the preppy silver charmed necklace phase, the Hollister-infused puka shell surf chokers — but this summer, I'm gettin' an hippie vibe in the jewelry department. I'm talking tarnished, leathery, beaded, flower power…I know, it's kind of hard to articulate, but I think you'll see what I mean.
Check out this necklace from Forever 21.

It TOTALLY makes me think of a flower child, I don't know about you all. Very cute, though!
Also lovin' this necklace from Fossil: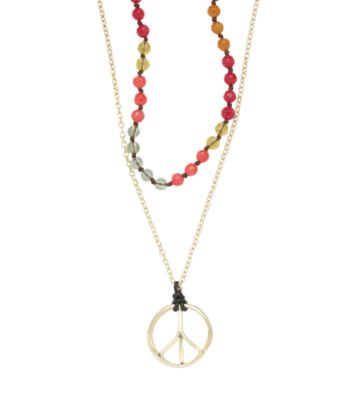 Peace sign pendants are huuuuuge right now.
And THIS bevello newbie looks straight out of the '70s:

Good call on the lime green! It was made by one of our independent designers, Foxy Originals. Very bright and eye-catching.
Anyone else have a great 70s fashion find? Leave it in the comments!
bve,
kelly